As Year 2 of our business journey begins, there are a lot of exciting things to look forward to.
Find us on Twitter: @JoeyandLeslie
Check back soon for updates!
I use to think I was tech savvy. I'm sure I was to some extent. Now that I'm older and hopefully wiser… I feel slightly behind! Technology just keeps on moving forward whether I like it or not. Well, I just think it needs to slow down just a tad, so people like me can catch up! Thank goodness for Joey and his expertise. Otherwise, I'll be in deep doo-doo land!
Speaking of technology advancing. I must be…uhh..mm… going back in time. LETTERPRESS! Before computers, digital or offset printers, and whatever else in between, there was letterpress printing. I stare at the nameless* Chandler and Price press and think, "wow, my grandparents were alive during the time this was the only method of printing". I am fascinated with the art of printing. I am, however, afraid of getting my fingers smashed! So until I get some real training, that bad boy will stand still – hopefully – and not come to eat me!
*The Chandler & Price machine needs a name. A few I've gathered: Preston the Letterpress, Ollie the Letterpress, Chloe the Letterpress (this surprises me a tad, Joey picked it!), any other suggestions are welcome!
Smiles,
Leslie
The preparation for the letterpress machine is a lot of work.  Cleaning up the garage to house this big cast iron machine is taking longer than we'd hoped for!  Knowing that once the movers bring the machine and plop it down, there's no more moving it.  That all means we have to find it's perfect spot.
Aside from cleaning, we are currently coating a wooden pallet (so it could last longer).  Also, we added extra wood to it for support to carry over 1,000 pounds.  I'm pretty excited to see how all this will turn out!
On another note, we have 2 small projects.  One is for a "tea party" and the other one is an "under the sea" themed children's birthday party.
One of the things we have been sacrificing is sleep.  Oh….how my body calls for my bed!
I've always told Joey about my weird fascination with paper.  He gives me a strange look when I fan paper under my nose as I sniff the smell of fresh paper.  I love the sound paper makes when scissors cut the crispness of the stock.  Let's not even discuss the textures of the paper!  I can go on and on about the various textures, thickness, and types.  I love paper and that's a fact.
When I encountered cotton paper that has been letterpressed, I fell deeply in love with it.  Learning about the process, the time, and the art just made me appreciate typography and printing.  I don't think I can quit my day job to be a full time printer, however, the idea of being with paper all day to hand feed the letterpress machine while listening to a 100 year old machine swoosh as the gears turn sounds very tempting to me!
Joey and I have been searching off and on for an antique letterpress machine.  Early on, we were very intimidated by the machine – its size, its mass, its age!  But after much research, we realized we're ready to take on this challenge.  So we made the leap and bought it.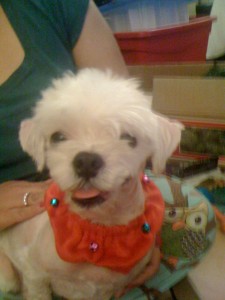 There's a guy I met on Valentine's Day back in 2007.  I've adored him and fell in love with him the instant we met.  I named him Cotton because of his fluffy, white fur.  He also was so small, he fit in my hands (literally!) – just like a cotton ball.
Today, I celebrate with him his 4th birthday.  During the last 4 years, he has watched me grow into the person I am today.  He was with me as I studied for exams, wrote lengthy papers during my master's degree days, watched me sleep when I was sick on the couch, and stood by me when my Dad passed away.
Thank you, Cotton, for being with me and being one of my inspirations.
Happy Birthday!
A few mo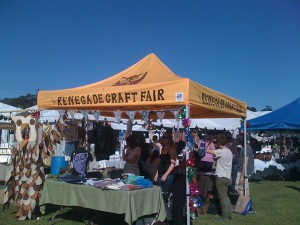 nths back, Joey and I went to the Renegade Craft Fair.  Everything sold at the Renegade are handmade.  These crafts are not like the products sold at the church bazaars; there's something more modern and unique about the handmade products sold at the Renegade.  If you haven't had a chance to attend one of these craft fairs, I highly recommend it.  You'll appreciate handmade products a tad bit more.  There are pricey products (but remember, they're handmade!); as well as affordable items.
The first time we went to the craft fair, Joey and I took public transportation.  It took us an hour and a half to get there and a few yards of walking via Metro Rails.  We opted to take a car this time around and the total travel time was actually 30 minutes.
Since we went by car (read: truck), we took a special celebrity guest with us on this little excursion.  His name is Meeko, aka The Attention Hog or the I"m SO Cute You'll Have to Say Something to Me. Everywhere we walke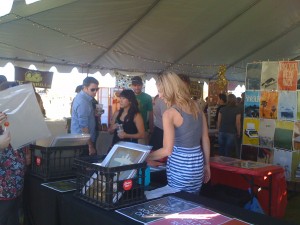 d, he stopped, sat, rolled, and laid on his back even when we're tugging on him.  Everyone seemed to enjoy his presence (except for this one dog that was a little, how shall I say this, out of control?)
I'm in love with handmade goods – the frills, the ribbons, the fabrics, the colors, and the letterpress posters (!!).
Support crafters, buy handmade!
Energy anyone?  I'm in dire need of an energy refill!  At times I wake up wondering where I'll be pulling my energy from.  When I woke up this morning, I didn't know if I could survive past recess.  Looking back at my day, I can't believe I'm still awake (yawning, but awake ha-ha).  I woke up at about 5:30am (read: opened my eyes but stayed in bed),  taught 20 children until 3pm, worked for an addition hour, drove to Ross (searching for a business card holder – which I'll discuss later), cooked dinner, cleaned up my work station, checked my e-mails, replied to my e-mails, did my usual blog hop, corrected papers, decorated a sketchbook, and now writing a blog entry.  Revisiting my day makes me really, really, tired.  Then I look and think about the million other things I didn't get to and wonder, HOW…WILL…I…GET… IT….DONE?!?
Somehow, it all takes care of itself… sometimes we lose an ounce of sanity… but it gets done in the end.
On to sharing my newly decorated sketchbook.  I found a blank generic sketchbook at a local craft store for 50% off.  I paid $1.50 for it and thought, this will come in handy.  After staring at the boring, brown cover, I decided it needed a cover-lift.  So check out what paper, glue, and some doodads can do.
With the holidays around the corner and budgets being tight, why not try decorating a budget friendly notebook and pairing it with a nice pen?  I'm sure someone special will appreciate the time and love that went into the creative process.  I know I would!
Finding the energy to be creative can be difficult, but it's all worth it.
Happy Gluing!

So this is long overdue, but remember those black PVC  tubes with foamy stuff hanging out?  Well here is the final product.  With some cutting help from Joey, I was able to create these faux candles.  I used hot glue to create the melting wax and sprayed it with black spray paint.  Then I added those light things that they sell at the craft store (or where I found mine – the dollar store).
Give it a try!
Joey and I were working on projects the entire day.  I began working in the little studio at 6:30am; redesigning the website.  I can't believe how little I've accomplished in the last 11 hours.  However, I'm glad I tackled the job.
I have a few design ideas floating around in my brain.  I can't wait to get them on paper!
I hope you enjoy the redesigned website… Now… the question is… What's for dinner?